Meet Dr. Wendy Morris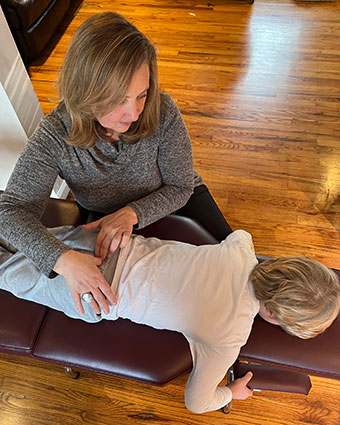 Achieving a Lifelong Goal
Dr. Wendy knew from a very young age that she wanted to become a chiropractor. As a child, she attended births with her mother and could often be found rubbing women's backs in labor. She was 8 when someone at a birth told her a chiropractic story and she was hooked and proclaimed, "Mommy, I want to be a chiropractor."
True to her word, Dr. Wendy attended Life University and graduated with her Doctor of Chiropractic in 2001. She is Webster Technique certified, and holds the highest level certification in Network Spinal Analysis.
Dr. Wendy Morris is one of only 150 women to hold the highest level certification in Network Spinal Analysis (NSA), a gentle, light force chiropractic technique beneficial for individuals of all ages. NSA is also an approach to healing and wellness that promotes increased communication between the brain and the body. She has also studied other techniques and incorporate them in her toolbox of "gentle touch".
A Passion for Helping Practice Members Thrive
Dr. Wendy is amazed every day by what people can achieve when there is no nerve interference and the body can thrive. It's humbling and rewarding to help people grow, become happy, and live the life they were meant to live. We're a family wellness practice, so we are privileged to watch the constant evolution of entire families.
Over her decades in practice, Dr. Wendy's mission to help women has expanded to helping families evolve to become the best they can be. Our care can help kids flourish physically and mentally, parents have more job satisfaction and grandparents experience greater contentment in life. As a solo parent, she understands the challenges of finding balance. At Soulshine Family Wellness Center, we want to be a central part of your family's healthcare team, specializing in the nervous system.
EXPLORE CHIROPRACTIC »
Enjoying the Great Outdoors
In her spare time, Dr. Wendy spends as much time as possible in nature. She loves hiking with her son Sammy and their dog Marley, as well as skiing, gardening and live music.
Get started today
If you want to reach optimum health and peak performance levels regardless of your age or provide healthy drug-free solutions for your children and family, our practice will be a great fit for you. Contact us to schedule an appointment.
Everyone deserves to be healthy and express their full potential from the time they are born through their last breath of life. This includes you.

Dr. Wendy Morris | (201) 817-5811