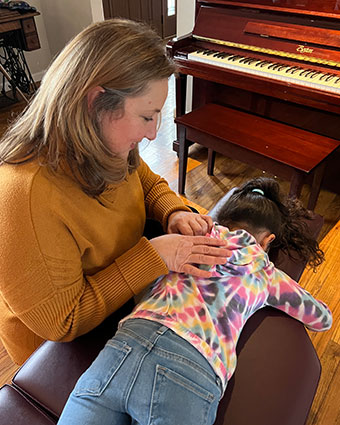 Pediatric Chiropractic at
Soulshine Family Wellness Center
A Solid Foundation for Wellness
Chiropractic care for babies and children provides them with a solid foundation for wellness throughout life. By keeping the communication between their brain and body flowing optimally, the body can grow and develop as it should. As kids grow chiropractic care can help posture, regulating emotions, and adapting to all life throws at them.Parents of children who receive regular chiropractic care often report that their kids seem healthier and happier.
At Soulshine Family Wellness Center, we remove interferences to this communication flow by gentle touch chiropractic adjustments tailored specifically to your child's needs.
NEW PRACTICE MEMBERS »

The Benefits of Pediatric Chiropractic
In addition to helping create better overall health and immune function, pediatric chiropractic care provides help with the following:
ADHD
Allergies
Anxiety
Asthma
Autism
Bed wetting
Colic
Constipation
Digestive Issues
Ear infections
Latching/nursing
Sleep
Children develop by experiencing the world around them through their senses: what they see, touch, taste, smell and hear. If their nervous system is not functioning correctly due to interference, their ability to experience and process sensory input is compromised. With regular chiropractic care, we keep the nervous system functioning as it should, which helps reach developmental milestones.
What to Expect
For kids, Dr. Wendy typically conducts the consultation with the parents over the phone. At the first in-person visit, which can be at our office or in your home, she'll do a gentle exam to locate areas of interference, then perform a light touch adjustment. There are no popping or cracking sounds, and it's extremely gentle.
Dr. Wendy loves working with kids and strives to help them feel comfortable and supported. She is often seen adjusting a favorite toy or stuffed animal, so kids who might be nervous know exactly what to expect. We put on children's music and make a game of it. Our goal is to work with your child's individual needs, meeting them where they are by putting them at ease and making it a fun experience, rather than a scary doctor's appointment.
At the second in-person visit, Dr. Wendy will go over her report of findings and explain her recommendations for care going forward. Follow-up visits are usually about 10-15 minutes.

Pediatric Chiropractic Glen Rock, Ridgewood NJ | (201) 817-5811